One day bus excursions to Vienna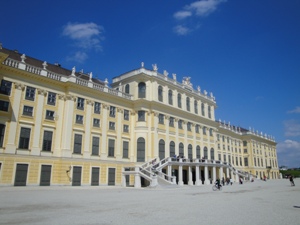 In partnership with City Tours and the licensed guides of Vienna, Linz Tours organizes bus excursions towards Vienna from Linz or another place of your choice in Upper Austria. The team of Linz Tours is available to create your sightseeing tours in Vienna according to your desires: with an excursion in Vienna you can not only visit the Schönbrunn castle but you can also go up in the Giant Ferris Wheel or take part in numerous guided tours of the most beautiful monuments in Vienna with our licensed guides. If you are interested in a personalized excursion, please let us know your dates and your desires for this programme at !
Example of programme for an excursion towards Vienna from Linz
Starting from Linz, we will go to Vienna by bus or minibus depending on the number of participants. We will take the highway where it will be possible to see the impressive Melk's monastery. (If we have enough time we can stop over to Melk's abbey) Once arrived in Vienna, we will discover this imperial city famous for its waltz with a city tour by bus thanks to our licensed guide, who will be waiting for us at the bus stop near Schönbrunn. During about 3 hours, you can admire the best places of Vienna, starting from the Schönbrunn palace where it will be possible, if you want, to visit the staterooms dating from the Empress Maria Theresa. Then we will continue our tour of Vienna going to the famous Viennese market "Naschmarkt" and also the huge square "Karlsplatz". Then, we will follow the Danube admiring the imposing "Urania", monument in Art Nouveau which is today a cinema. We will go on to the Prater park located in the second district of Vienna "Leopoldstadt" where there is the legendary Vienna Giant Ferris Wheel. Then, we will pass on the most famous bridge of Vienna, the "Reichsbrücke" seeing the "Vienna International Centre" where there is one of the four headquarters of the UNO. We will end this excursion with the discovery of houses made by the famous architect Hundertwasser. After a cofee break, near Hundertwasser's houses, we will go to the city center where you will have the possibility to have lunch wherever you want or enjoy an organized group menu. The afternoon will go on depending on your desires. Indeed, you can choose to take part in a city tour visiting the museum of the imperial treasure or to discover Vienna with a guided walk with a lot of details and little stories about Vienna's culture. To end this day, we will leave Vienna in the beginning of the night to go back to Linz, comfortably seated in our bus or minibus.
Some details about our excursion in Vienna
Of course, we can offer you other activities to discover the sumptuous city of Vienna. Indeed, it is possible to go to a concert or go to see the opera or another musical show.
Additional information about Linz Tours and City Tours
Linz Tours is a service presented by the tour operator City Tours, a company which creates and organizes excursions all around Austria. You will find more information by clicking on the button entitled "legal notice" about Linz Tours and City Tours. Besides, you can discover in the buttons to the left our itineraries and you can inquire about our numerous partners.