One day excursion towards the Wachau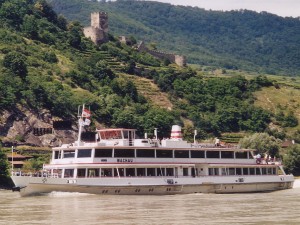 During the flowering apricots season or another moment, we offer, from Linz or another place that you prefer in Upper Austria, to take part in a touristic excursion in the Wachau valley. The team of Linz Tours offers, depending on the number of participants, bus excursions, minibus excursions and car excursions to the Wachau and Melk abbey. If you are interested in this itinerary, please write us and let us know your personal information, the date and your preferences for this excursion at !
Example of an excursion programme to the Wachau
Depending on the number of participants in our excursion, we will leave from Linz in bus or minibus to go to Melk. We will go to the Melk abbey where we will visit the church, the library and the sumptuous garden around the monument. After this visit, our bus will bring us towards Melk's harbor where we will take part in a boat trip through the Wachau valley, then in Melk to finally arrive in our last destination Dürnstein. We will have lunch on board in the boat admiring the most charming villages Willendorf, Spitz and Weissenkirchen. Once in Dürnstein, we will leave the boat to go to the discovery of the place where the King Richard the Lionheart was imprisonned. Before returning to our bus and leaving towards Linz, you will have the possibility to discover a lot of artisanal shops and buy souvenirs or even take a walk in Dürnstein.
Additional information about our excursion in the Wachau
The programme of our excursion to the Wachau valley can be modified to fit your individual preferences. For example, instead of having lunch on the boat, it is possible to have lunch at the restaurant of Melk's abbey. Moreover, we can choose not to visit Dürnstein but continue our tour to Krems and to make a guided tour in the museum of the caricature or taste a glass of wine in the vineyard "Sandgrube 13". The team of Linz Tours will be delighted, if you want, to inform you about other itineraries for our excursions in the Wachau valley.
Information about Linz Tours and our services
Linz Tours is a service presented by the tour operator City Tours, a company specialized in development and organization of sightseeing tours all around Austria. You will find complementary information about Linz Tours and City Tours in the button "legal notice" to the left. If you are interested, you can also inquire about our partners and about other sightseeing tours offered by City Tours Austria.