Excursion in the footsteps of Anton Bruckner at the Sankt Florian abbey and in Enns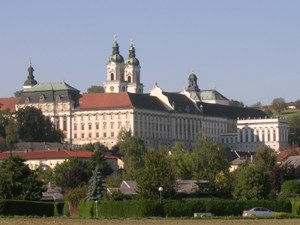 Depending of the number of visitors, Linz Tours offers to rent buses, minibuses or cars to make an excursion to the Sankt Florian abbey. Our tour, under the theme of Anton Bruckner, can start from Linz or from another place of your choice in Upper Austria. If you are interested in our excursion to Enns or in the visit of Sankt Florian abbey, please write us at !
Programme of the excursion of the Sankt Florian abbey
After you meet your lincensed guide, you will go to the monastery located about twenty kilometers from Linz. On your way, your guide will tell you little stories on Sankt Florian abbey and its history. Once at the abbey, a local guide will welcome you and lead you to the catacombs where you will see the tomb of the famous compositor Anton Bruckner. Your visit will continue to the discovery of Bruckner's organ, imperial and baroque rooms, art galery of Sankt Florian with "the Great Altar" of Albrecht Altdorfer and also the library where there are frescoes by Martino Altomonte. We will continue this excursion with the visit of the city of Enns. Thus, you will see the parish church with the Wallsee chapel and a lot of other monuments, especially the tower of the city where it will be possible, if you want, to go up and enjoy the beautiful view. Our last destination will be the Lorch basilica, first christian church of Upper Austria whose remains date back from Roman era. To end this tour, your guide will escort you to your ending point.
Additional information about our excursion to the Sankt Florian monastery
The team of Linz Tours can also organize an excursion by bus depending on your wishes.
Practical information about Linz Tours and our services
Linz Tours is a service presented by the tour operator City Tours, a company specialized in creation and organization of touristic sightseeing tours in all Austria. You will find complementary information about Linz Tours and City Tours in the button entitled "legal notice". Moreover, you can find more information about our partners and also discover other tours offered by City Tours Austria.