One day excursion to Salzburg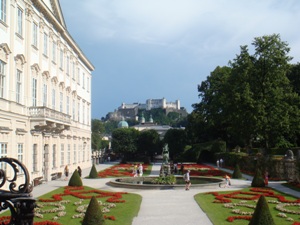 From Linz or another place in Upper Austria, the tour operator Linz Tours organizes, in partnership with Salzburg Guides, one day excursions in direction of the city of Mozart, Salzburg. The programme can be modified depending on your individual preferences. Our team of Linz Tours will be happy to inform you on this sightseeing tour created with the aid of our licensed guide from Salzburg giving you more information about the city tour and about the most important monuments of Salzburg. If you want an offer for our excursion by bus in Salzburg, please contact us and let us know the date, the programme that you prefer and the number of visitors at !
Programme of our excursion by bus to Salzburg
Confortably seated in our bus or minibus - depending on the number of participants - we will first take the highway in direction of Salzburg. If we have enough time, we can stop over to the city of Mondsee where you will have the chance to go up in the basilica and enjoy its beautiful view. If you want, you can also take pictures of the swans. Once in Salzburg, we will meet our licensed guide to the bus parking area. During a two-hours guided tour, he will give you important information about Salzburg's history and he will show you the best places and monuments of the city. After we have lunch in Salzburg, in the traditional cellar "Stiftskeller Sankt Peter", we will visit the birth house of Mozart and we will go to the Hohensalzburg fortress with the funicular. After we have visit the fortress and the museum of "Hohensalzburg" castle, we will enjoy a last time the beautiful view on the city of Salzburg before heading back to Linz by bus or minibus.
Details about our bus excursion in Salzburg
The excursion by bus to Salzburg can be modified to fit your desires and personal wishes. Among the possible modifications, you will have, for example, the possibility to end this day with a concert in Salzburg or to spend the night in one of the numerous accomodations located in Salzburg.
Information about Linz Tours and our services
Linz Tours is a service presented by the tour operator City Tours, a company specialized in creation of sightseeing tours and which takes care of the organization of your trips. In the button entitled "legal notice", you will find more information about Linz Tours and City Tours. Moreover, you can discover many excursions offered by City Tours and you can inform you about its different partners.