Panoramic city tour of Linz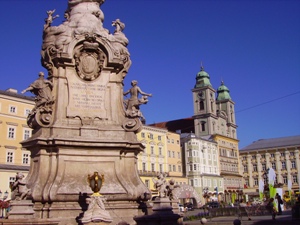 Linz Tours offers, depending on the number of participants, excursions by bus, minibus or car to visit the city of Linz. You will find below information about our panoramic city tour. We can also create tailor-made itineraries according to your desires. If you want additional information about guided tours, feel free to visit our partner website Linz Guides. Besides, to book a panoramic tour of Linz or have complementary information, please contact us at !
Programme of the panoramic city tour of Linz
To start this panoramic tour, our starting point will depend on your hotels, restaurants or other places of your choice in Linz. If you don't spend the night in the city we will meet at the bus parking area near the bank "Oberbank" in the Donaulände street, in front of the Lentos art museum. From there, we will go to the Postlingberg which overhangs the Hausberg of Linz, famous above all for its basilica. We will stop a few moments and enjoy the beautiful panorama : Linz, the Danube and the Alps if the weather is set fair. Then, we will go down the Postlinberg to discover the Nibelung bridge where our guide will describe the landscape of Linz. Driving through the Römerberg tunnel, we will go to Sankt Martin church and go for a walk in front of Linz castle, not far away from the old city. We will see the principal square with its baroque houses, the Column of the Holy Trinity, and the old city hall. We will admire the old cathedral and we will go to Kremsmünsterhaus house, the residence of Mozart and the Franciscan church, to finally arrive in the Herrenstrasse street where there is the cathedral of Linz. We will join our vehicle (autobus, minibus ou car). To end this day, our licensed guide will accompany you with pleasure to your accomodation in Linz.
Some details about panoramic tour of Linz
The panoramic city tour of Linz doesn't include the guided tour of the Lentos art museum, the future museum (Ars Electronica Center) and the castle museum. However, it's possible to combine this panoramic tour with a guided tour of one of these museums or a half-day sightseeing excursion around Linz and create a complete touristic programme of one day. Don't hesitate to write us, we will answer with pleasure to your interrogations at !
Practical information about Linz Tours and our services
Linz Tours is a service presented by the tour operator City Tours, a company specialized in organization of tailor-made sightseeing tours. You will find more information about the companies Linz Tours and City Tours by clicking on the button "legal notice" to the left. You can also inquire about our partners or about other sightseeing tours offered by City Tours Austria.